As our team prepares for the NBL Final 4 weekend, we would like to take the time to thank all of the volunteers who made the 2017 Rams season a success.
We played 9 home games this year, and have one of the best home game fan experiences in the NBL. These home games are all driven by the volunteer support of many talented people. For every one of these home games you would have seen an army of volunteers from the very start as you walked through the doors of Cowles Stadium.
For a number of these volunteers, listed below, they will arrive at a game for preparation 7-8 hours before tip-off and stay 2-3 hours after the game. We have worked closely with the Wildcats & NBL on having double headers to promote the women's game, in which our volunteers have put their hand up to work of 2 games in a night. None of our home games, or our organisation, would be possible without these people who work tirelessly so the players can have the best on-court experience and our fans can enjoy a great night out. The heart of our organisation are these volunteers, and our success and future success is because of these people. So, from the Rams team we would like to thank you all for supporting our team this year.
Together with our volunteers, we hope we have provided our fans with some entertaining games, and we are looking forward to representing you all at the NBL Final 4 in Tauranga this weekend.
Sincerely,
Mark Dickel & Rams Team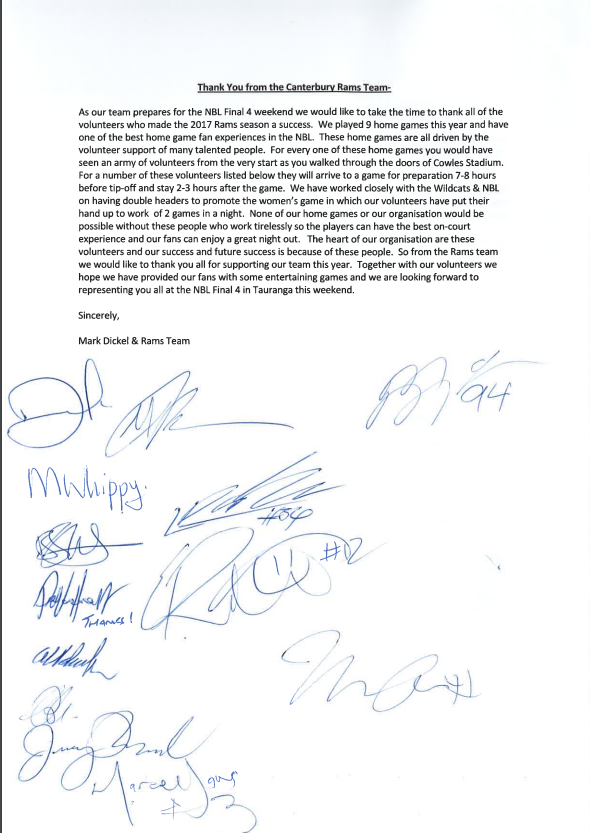 Signed thank you letter from The Rams
Volunteer Team for Rams Home Games
Commentators
Terry Brunel
James Lissaman
Design
Blasé Dowall
Andrew Buston
Social Media
George Berry
Photographer
Richard Connelly
Ticketing
led by Juleen Lacey
Holland Family – Sonya, Ant, Riley, Claudia & Genevieve
Josh Lacey
Tautahi Briggs
Sam Gallagher
Ryan Wood
Della Trimby
Setup/Pack up and Ushers
Faith Harrison
Ashleigh Adamson
Pedro Makaarfi
Matt Mischewski
Troy Murphy
Ben Gracey
Cam Gracey
Andrew Tremewan
Trudy Tremewan
Chris Hannen
Matt Hannen
Zach Hannen
Belinda Hannen
Keegan Low
Jonathan McMillan
Sophia Harrison
Shaun Kelly
Hamsa Shire
Zach Lilburne
Josh farrar deWagt
Dom Mitchell
Sweat Team
Jack Williamson
Yuske Saito
Elijah Velasco
Xach Velasco
Shae Smith
Ethan Weston
Hugh Servier
Laundry
Jane Halliday
Jenny and Jordana Falconer
Mary Duggan
Shop
Irvine family – Tony, Sammy, Katie, Sharlene
Lilian & Rachel Pullan
Score Bench led by Cathy Hyland
Karla Martin
Patsy Barry
Sandra Thomas
Thelma Costain
Fiona Chapman
Marinda Van Vuuren
Natasha Van Vuuren
Harry Apes
Amanda Murray
Game Commissioner
Mike Barnett
Announcer Assistance
Richard Kenny
Stats
Sharon Erwood
Nick Erwood
Dan McGregor
James Levings
Harry Apes
Corporate Hosting
led by Nicky Harrison
Lisa Rhodes Braithwaite
Ang Northmore
Jo Petrie
Amanda Bird
Dance Team
led by Rambo
Levings School of Dance
Swarm Studios
---